Commercial Banking Career Path
Interested in a career in commercial banking? It's a great choice if you have a background in business or finance. Learn how to launch a career in commercial banking and see how much you can expect to earn in the future.
What is Commercial Banking?
When working in commercial banking, you are employed by a bank such as Bank of America, J.P. Morgan, or even a much smaller regional bank. Commercial bankers provide credit products to businesses, governments, and other institutions. These products can include term loans, revolving lines of credit, cash management services, and more.
Although one definition of commercial banking is any private banking institution that is engaged in commerce, this guide refers to the more widely embraced definition in which retail banking and commercial banking differ. Retail banking provides products to individuals for personal use. Commercial banking provides products to businesses; from small to mid-sized local businesses with a few million dollars in revenue, to large corporations with billions of dollars in revenue.
Typical Commercial Banking Career Path
It's important to note that every bank is different and that this isn't the only career path in commercial banking. Some people will start as a credit analyst and will advance their career by climbing the ranks within the credit department. Some people will start as a relationship manager if they have the qualifications for the job. The career path outlined in this guide however, is one of the most common.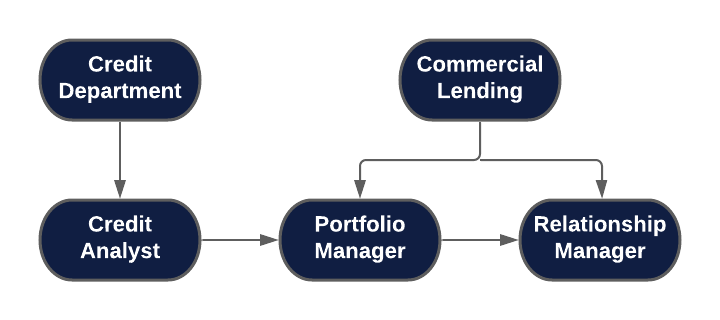 Entry Level – Credit Analyst
Becoming a credit analyst is the first step to launching a career in commercial banking. Credit analysts review the complete financial picture of a company and determine the level of risk associated with lending it money. By reviewing and analyzing a borrower's financial statements and credit history, they determine the likelihood of repayment. The ultimate goal of the position is to prevent bad loans that cost the bank money. It's also the job of a credit analyst to ensure that the loan structure and collateral position of a loan is favorable to the bank in case of default.
Credit Analyst Qualifications
Bachelor's degree with a concentration in Finance, Accounting, or Economics
1-2 years in various financial fields (such as an internship)
Detailed understanding of accounting
Outstanding organizational skills
Excellent oral and written communication skills
Don't meet all the qualifications? Check out certifications.
Credit Analyst Salary
According to the bureau of labor statistics, the average salary of a credit analyst in the United States is $84,930, and tends to range from between $43,400 – $145,840. Obviously, the more experience you have as a credit analyst, the more money you will make. Many banks offer generous salaries to entry level credit analysts. It's not unheard of to make over $70,000 as a credit analyst immediately following the completion of your bachelor degree.
Mid Level – Portfolio Manager
After you have a few years of experience as a credit analyst, the next step in a commercial lending career is to become a commercial banking portfolio manager. Portfolio managers have a lot of the same responsibilities as a credit analyst, such as assessing the creditworthiness of borrowers, however, portfolio managers often have more responsibility. They work alongside relationship managers (also known as "lenders"), maintaining a portfolio of commercial loans. By monitoring repayment activities, tracking covenants, analyzing financial statements, and performing other duties necessary to maintain a borrowing relationship, portfolio managers are often the point of contact for the borrower; acting as a liaison to the Credit Department and other internal business partners. This allows lenders to focus their efforts on business development.
Portfolio Manager Qualifications
Bachelor's degree with a concentration in Finance, Accounting, or Economics
Formal credit training preferred
Minimum 3 years of experience in commercial banking
Excellent organization, communication, and presentation skills
Ability to work with minimal supervision
Portfolio Manager Salary
In the United States, portfolio managers working in commercial banking can expect to earn somewhere between $70,000 and $170,000. Your location in the country, number of years of experience, and the size of the bank will determine which end of the salary range you will fall in. If you are looking for a finance career that has the potential of making 6 figures just 3 years out of school, this may be the path for you.
Senior Level – Relationship Manager
Relationship managers, lenders, and loan officers are all referring to the same job. These are the salesman who work at banks. By structuring, negotiating, and underwriting deals, a commercial banking relationship manager is responsible for the acquisition of new borrowers as well as taking ownership for the ongoing relationship. Some people will argue that relationship managers are financial advisors for businesses. A relationship manager wants what's best for their clients, and will call on them regularly to check in and see if they are in need of additional credit or even business advice.
Relationship Manager Qualifications
Bachelor's degree in Business, Finance, Accounting, or Economics
MBA preferred
Minimum 5 years of work experience in commercial banking or a similar lending environment
Excellent communication/people skills
Ability to meet sales goals
Relationship Manager Salary
If you really want to make money in commercial banking, becoming a relationship manager should be your career goal. Commercial banking relationship managers earn an average annual salary of $118,000 with the potential to make a lot more depending on where you work. It's not uncommon for relationship managers to make over $300,000 per year in large cities such as New York. Although the pay is outstanding, not everybody is suited for a career in sales, which is why many will remain in a credit analyst or portfolio manager role.
Commercial Banking Certifications
A commercial banking certificate can give you a competitive edge if you want to land a credit analyst position at a bank . This is especially important if you don't currently meet the requirements for the job, such as not having a Bachelor's degree in Finance. Many existing commercial bankers also obtain certifications for professional development purposes.
The most internationally recognized certificate is the Commercial Banking & Credit Analyst (CBCA™) Certification with over 500,000 positive reviews. Get 10% off when you use the link below and use Code MYCBCA10.
CBCA™ Certification (Get 10% Off With Code MYCBCA10)
Is It Worth Getting an MBA?
Many people ask if they should get their MBA to break into commercial banking. This is a very difficult question to answer because although almost every employer would most likely prefer candidates with MBAs, it will cost you tens if not hundreds of thousands of dollars to obtain, and most positions don't require one.
How Many Jobs Are Available in Commercial Banking?
Employment in commercial banks only demonstrated growth of 0.3% from 2015 to 2020. Although this is below the average rate of growth for other finance careers, there are still many jobs available in commercial banking. Search for credit analyst, portfolio manager, and relationship manager positions in your area to get an idea of jobs available in your local job market.
Ready for a Career in Commercial Banking?
All in all, commercial banking careers can be very lucrative, with the ability to make over $100,000 relatively early in your career. It might not be as glamorous as a career in investment banking, but commercial banking often doesn't require you to work more than 40 hours per week, whereas investment bankers will often work double that.
Once again, the career path outlined in this guide is not the only career path in commercial banking. Some people may go from a junior credit analyst position and finish their career as a senior credit analyst. Other credit analysts may be promoted straight to a relationship manager position.
Whether you're currently in college or looking for a career change, look into credit analyst positions in your area. Many larger banks have credit analyst training programs, where they will teach you everything you need to know about a career in commercial banking. These programs will often take several years, with the ultimate goal of being promoted to a portfolio manager or relationship manager upon completion of the program.
If you have any questions or are seeking advice regarding a career in commercial banking, feel free to contact us today.